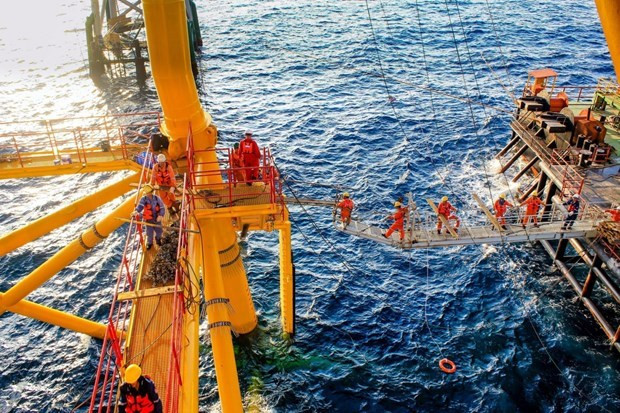 The Vietnam Oil and Gas Group (PetroVietnam) has reported that its crude oil output reached 3.63 million tonnes in the first four months of this year, surpassing the set target by 23 percent.
The group's revenue in the period was estimated at 292.6 trillion VND (12.74 billion USD), up 62 percent on-year and exceeding the goal by 62 percent.
It contributed some 41.8 trillion VND to the State budget, surpassing its target by 73 percent, and increasing by 48 percent from the same period last year.
Vietnam striving to remove bottlenecks from digital government development
Deputy Prime Minister Vu Duc Dam recently signed a directive regarding e-Government development towards digital governance and transformation.
Despite recent positive results, major bottlenecks remain in the implementation of the work, with data sharing being one of the main issues.
In addition, due focus has yet to be paid on ensuring cyber security, human resources and a budget for information technology applications, as well as the building of e-Government.
As a result, relevant agencies have been ordered to prepare infrastructure and fulfil cyber security conditions to connect national databases.
They have been instructed to use data for the implementation of online public services by December.
Ministries and agencies must work to improve their capacity and quality of services, as well as expand connectivity, surveillance and access control over data transmission networks by September.
Agencies have also been asked to make more efforts in IPv6 adoption, work on information systems and the establishment of a communal digital technology network.
Vietnamese wood exports forecast to enjoy positive growth in first half
Among the top 5 agro-fishery products with an export turnover of over one US$ billion, wood exports are anticipated to grow by between 5% and 8% in the first half of 2022.
According to data provided by the General Department of Customs, the export turnover of wood and wood products in April alone reached an estimated US$ 1.5 billion, up 7.3% compared to the same period from last year, bringing the export turnover during the first 4 months of 2022 to US$5.48 billion, an increase of 4.9% on-year.
The Ministry of Agriculture and Rural Development said that throughout the reviewed period, there were 5 products and product groups with export value of over US$1 billion, including timber and wood products.
According to the Vietnam Timber and Forest Product Association (VIFORES) currently, the export trend of wood and wood products is focusing on high value-added items such as wooden frame chairs, living room and dining room furniture, and bedroom furniture which are all products of Vietnam's strengths.
According to Do Xuan Lap, chairman of the VIFORES, Vietnam's wood production and export activities are promoted by a series of free trade agreements (FTAs) being carried out such as the EU-Vietnam Fee Trade Agreement (EVFTA) and the Comprehensive and Progressive Agreement for Trans-Pacific Partnership (CPTPP), thereby creating competitive advantages for wood products when the tax rate is gradually reduced to 0%.
Petroleum demand forecast 5.2 million m3 in Q2
     
Demand for gasoline in the second quarter is forecast at about 5.2 million cubic metres (m3).
The Ministry of Industry and Trade has informed the situation of the petroleum market in the second quarter, after supply uncertainties in the first quarter.
Total petroleum demand for the domestic market is about 20.6 million m3 this year. Meanwhile, the Ministry of Industry and Trade said that the supply would reach about 6.7 million m3 this quarter.
The Ministry of Industry and Trade affirmed that the above supply would meet the consumption demand in the second quarter. The inventory will be about 1.5 million m3 in the third quarter.
To ensure the domestic petroleum supply, the Ministry of Industry and Trade said it would continue to direct petroleum dealers in allocating total sources and additional minimum import quotas, which the Ministry of Industry and Trade assigned in the second quarter.
Ha Noi supports farmers in digitalisation of production and sales
     
To build a smart agriculture sector, Ha Noi like other localities across the country has employed many solutions to help farmers access and apply digital technology in production and consumption activities, aiming to build a new generation of farmers who can master digital technology.
Vice President of Ha Noi Farmer's Union Duong Thi Hang said Ha Noi's farmers are actively applying digital technology to production and setting up groups to sell products online. During the peak time of the pandemic, farmers in districts connected and sold thousands of tonnes of farm produce through websites. Many farmers have actively built their electronic sales channels and connected with businesses to develop an online brand identity (including website, email system, Facebook fanpage and landing page).
To date, the Ministry of Agriculture and Rural Development (MARD) in coordination with the Ministry of Information and Communications have created digital booths for 2.5 million farming households on Vietnam Post's e-commerce platform Postmart.vn.
Besides providing a digital platform and instructions on how to trade online, Vietnam Post also supports farmers in integrating solutions such as marketing, communication, packaging, transportation and payment. Currently, nearly 50,000 agricultural products have been sold on this platform, demonstrating the early effectiveness of digital transformation in the agriculture sector.
To meet the increasing requirements in the future, MARD will develop a framework programme for training on digital technology and digital transformation for agricultural enterprises and agricultural cooperatives.
Vietnamese goods dominate domestic market
     
More and more city residents are accepting the message to give priority to Vietnamese goods, which dominate sales at supermarket systems now, a senior official says.
Nguyen Ho Hai, deputy secretary of the HCM City Party Committee and head of the "Vietnamese people give priority to using Vietnamese goods" campaign's steering committee, said this at a review conference held last week.
He said that amidst the harsh impacts of the COVID-19 pandemic, the city had made efforts last year to stabilise the market and strengthen links with provinces and cities across the country to have reputed, quality Vietnamese goods reach consumers.
Association of the campaign with the city's 2021-2022 market stabilisation programme in 2021-2022 helped balance supply and demand and contributed to boosting the profile of Vietnamese goods, he said.
Domestically produced goods account for 80-90 per cent of goods sold in supermarket systems compared to 60-70 per cent 5-10 years ago, the conference heard.
Nguyen Thi Bich Van, head of communications at Central Retail Vietnam, said the percentage of Vietnamese products in its retail system (including GO!, Big C and Tops Market supermarket chains) was above 90 per cent.
The retailer has consistently implemented "the livelihood for the community" and other programmes that support signature products of villages, communes and localities to meet standard requirements so that they can enter its retail chains, she said.
Similarly, Le Truong Son, deputy general director of Saigon Co.op, said the percentage of Vietnamese goods in its retail systems, including Co.opmart, Co.opXtra, Co.op Food, and others, has been maintained at over 90 per cent for many years.
Ly Kim Chi, chairwoman of the Food and Foodstuff Association of HCM City, suggested that to improve the campaign's efficiency, the city should step up dissemination and make it more regular instead of doing it at specific times in a year.
To encourage more local consumers to opt for Vietnamese goods, businesses need to further improve product design and quality up to international standards, achieving equality between the quality of good produced for export and domestic consumption, other speakers said at the conference.
The conference honoured several collectives and individuals for their active contribution to the campaign. 
Binh Duong FDI quadruples from 2021
     
The southern province of Binh Duong attracted US$1.8 billion worth of foreign direct investment in the first four months of 2022, four times the amount in the same period last year.
It includes more than $1 billion by toy manufacturer LEGO Group in a 44ha factory at the Vietnam-Singapore Industrial Park III in Binh Duong. It is expected to generate 4,000 jobs in the next 15 years.
The province has 29 concentrated industrial parks with nearly 13,000 ha of land and average occupancy rates exceeding 83.4 per cent.
Binh Duong ranks third in FDI this year after HCM City and Ha Noi with its efforts to improve administrative procedures and create a favourable investment climate paying off. 
Vietnam attends 18th congress of World Federation of Trade Unions in Italy
A delegation of the Vietnam General Confederation of Labour (VGCL) attended the 18th congress of the World Federation of Trade Unions (WFTU) that took place in Rome, Italy, from May 6 to 8.
Opening the event that was participated by 435 delegates from 106 countries, WFTU General Secretary Georges Mavrikos highlighted the federation's strong development in both quantity and quality over the past years, noting that since 2005, the WFTU membership has surged by 175 percent to over 105 million in 133 countries, making it the world's largest organisation of trade unions.
He also highly valued Vietnam's active contributions to maintaining and strengthening the WFTU's pioneer role in the fight for the interests of workers around the world.
In his speech, VGCL President Nguyen Dinh Khang stressed the importance of solidarity and unanimity in the progressive working class and global trade unions.
Vietnam emerges as Taiwan's largest tea exporter
Vietnam represented the largest supplier of tea to Taiwan (China) last year with its tea exports accounting for up to 55.23% of the territory's tea import value, according to Taiwan's Bureau of Foreign Trade (BOFT).
The BOFT statistics show Vietnamese businesses shipped 18,330 tonnes of tea worth US$28.91 million to the market, increasing by 7.1% in volume and 7.47% in value compared to 2020.
In the opening two months of this year, they exported 2,000 tonnes worth US$3 million, up 3.5% in volume and 0.9% in value year on year.
However, their export proportion to the market decreased by 8% compared to nine years ago. Experts attributed the decline to the impact of the COVID-19 pandemic and Taiwan's tightened control over product quality and pesticide residue level over imports.
According to Taiwan's regulations, imported tea products are required to comply with food safety and hygiene standards set by the Taiwan Food and Drug Administration (TFDA).
VCCI suggests adding regulations to draft amendments to Law on Intellectual Property
The Vietnam Chamber of Commerce and Industry (VCCI) has suggested adding regulations related to digital transformation to the draft law on amending and supplementing a number of articles in the Law on Intellectual Property (IP).
They include a number of procedures that need to be conducted online such as registration and establishment of IP rights.
The Law on IP was promulgated in 2005 and was amended and supplemented in 2009 and 2019. However, it should be adjusted to meet the new development requirements of the country, institutionalise the guidelines of the Party and State, and overcome the inadequacies of the current law, especially in the context of the Fourth Industrial Revolution, according to the VCCI. The amendments also aim to meet international commitments related to IP rights and ensure harmony and consistency in the Vietnamese legal system.
Currently, the draft law only regulates the submission of copyright registration dossiers through the online public service portal, while data on trademarks and industrial designs are incomplete and haven't been updated by the National Office of Intellectual Property, the VCCI said.
VCCI suggests adding regulations to draft amendments to Law on Intellectual Property hinh anh 2The Vietnam Chamber of Commerce and Industry has suggested adding regulations related to digital transformation to the draft law on amending and supplementing a number of articles in the Law on Intellectual Property. (Photo: VNA)
According to the VCCI, the Law on IP recognises and protects many types of intellectual property such as copyright and related rights in software, information systems and industrial property with respect to business secrets. However, some issues have not been clarified, causing many difficulties. Specifically, the concept of business secrets in the Law on IP is still too general and confusing.
According to the VCCI, IP protection for digital economic development is important to promoting investment in the fields of industry and high-tech agriculture. Therefore, it is necessary to consider adding to the Law on IP the institutions that recognise and protect all kinds of IP in the digital environment towards protecting personal property rights.
Businesses seek stable tax policies for sustainable recovery in new normal
The Vietnam Alcohol-Beer-Beverage Association (VBA) on May 6 held a seminar on the sector's recovery and development in the new normal. The event attracted state management agencies, senior economists, experts, and organisations in the field.
During the seminar, participants focused on possible solutions and measures to facilitate businesses, thus contributing to an economic growth rate of 6.5-7 per cent in 2021-2025.
As Vietnam is reopening its economy to facilitate business recovery, the economic picture is now brighter and more optimistic. According to the Ministry of Planning and Investment (MPI), driven by the growth momentum in the first quarter, economic development in April continues to be bright in almost all sectors and industries.
However, the MPI forecast that, in 2022, Vietnam will still face difficulties from the unpredictable developments of new COVID-19 variants, strict prevention and control measures from countries which border Vietnam, global inflation, and other factors.
Therefore, in order to obtain the economic growth rate of 6-6.5 per cent as set by the National Assembly, it is necessary to have an additional support package for businesses to help them recover, mainly focusing on fiscal policy, refunds, and tax refunds which are being implemented and to be implemented in the upcoming time.
Nguyen Van Viet, chairman of the VBA, said that like businesses in other sectors, those in the alcoholic beverage sector are still facing many negative impacts due to the pandemic.
Moreover, some regulations, including on the prevention and control of alcohol-related harm, and Decree No.100/2019/ND-CP, regulating strict fines for drunk driving still affect them as consumption has been reduced by 20-30 per cent. The Russia-Ukraine conflict also increasingly affected the sector due to the interruption of the global supply chain, and related fuel hikes.
Viet added that the sector's production has yet to recover due to the interruption in the supply chain, rising input costs, and a lack of materials for production, among others.
However, businesses in the beverage sector are concerned about recent proposals on increasing the special consumption tax (SCT) for several products such as alcoholic drinks, tobacco, and others.
Some experts say that this is a suitable time for such a hike to protect people's health, increase stage budget collection, and reduce social consequences. Others say that any proposal on increasing the burden on businesses in the next few years, such as an increase in SCT for alcoholic drinks and other products, needs to be carefully considered.
Mekong Delta Resilient Business Network officially debuts
The Vietnam Chamber of Commerce and Industry (VCCI) chapter in the Mekong Delta city of Can Tho and The Asia Foundation have organised the official debut ceremony for the Mekong Delta Resilient Business Network (MRBN) on May 6.
The network is in charge of updating information and techniques in the field, bolstering firms' operations and their role in policymaking and social responsibility.
Established last July, the network, under the sponsorship of the UPS Group, is the first for firms to seek measures to improve business capacity and contribute to policy building in the backdrop of climate change. It combines 39 members, 24 of which are businesses.
According to the Department of Water Resources Management under the Ministry of Natural Resources and Environment, saline intrusion in this dry season would affect 210,000 hectares of rice, orchards, and rice-shrimp fields in the region. At its peak, saltwater intrusion will likely affect 60,000ha of rice fields in the coastal provinces, including 11,900ha in Tien Giang, 12,000ha in Ben Tre, 15,000ha in Tra Vinh, and 20,000ha in Soc Trang.
Meanwhile, 43,300ha of fruit growing areas would be affected, including 3,100ha in Long An, 21,800ha in Tien Giang, 16,000ha in Ben Tre, and 3,400ha in Soc Trang. Around 107,400ha of integrated rice-shrimp fields would be hit in Kien Giang, Ca Mau, Soc Trang, and Bac Lieu. By 2050, it is estimated that agricultural output may decline by 30 per cent, equalling damages of over $520 million due to desalination.
Quang Tri province prioritises investment in wind power to diversify energy sources
The central province of Quang Tri is striving to attract investment in the field of renewable energy, especially wind power, to turn the locality into an energy hub by 2030.
Quang Tri – The central province of Quang Tri is striving to attract investment in the field of renewable energy, especially wind power, to turn the locality into an energy hub by 2030.
The province's western mountainous region has favourable conditions for wind power development with an average wind speed of 6-8 metres per second and vast terrain.
The number of wind power projects carried out in Quang Tri province increased dramatically last year. Specifically, it has 17 more projects in operation, bringing the total number of commercial wind power projects to 19 with a total capacity of over 671 MW. Another 12 projects are under construction this year.
The potential to attract investment in wind power in Quang Tri is still very large. In addition to 31 wind power projects that have been put into operation and are under construction, it has 53 projects that have been submitted to the Ministry of Industry and Trade for consideration.
Export sector is bright spot for Vietnam economy
New statistics show that Vietnam's exports in April expanded a staggering 25% year-on-year at US$33.26 billion while imports reached US$32.19 billion, up 15.5%.
In the first 4 months of the year, Vietnam had a trade surplus of US$2.53 billion.
A Maybank Investment Securities (MIB) report said almost all sectors registered positive export growth, with crude oil advancing 204% against March in which it fell 6%, iron and steel rising 23.6%, textiles and garment surging 25.4%, computers, electronics and components edging up 23.2% and phones and components picking up 62.8%.
Supply chain disruptions caused by the military conflict between Russia and Ukraine and China's strict Covid lockdowns did not affect Vietnam's export performance. This was possibly because companies exported their inventories to meet the demand of recovery, MIB's report said.
Statistics from Mirae Asset Securities showed that April exports increased significantly in main markets of Vietnam, including the U.S., the EU, China, South Korea and Japan.
Growth was driven by businesses resuming operations, factories reopening and capacity returning to normal. Increasing demands of international markets and Vietnam's better participation in global supply chains through key trade agreements are others, according to Mirae Asset.
Retail sales bounce back
The domestic retail market has bounced back after the Covid pandemic, fetching VND1,777 trillion in total retail sales of consumer goods and services between January and April, up 6.5% year-on-year.
In April alone, the country's total retail sales amounted to VND455.5 trillion, up 12.1% year-on-year and 3.1% month-on-month, according to data from the General Statistics Office of Vietnam.
During the four-month period, the retail sales of goods grew 7.6% year-on-year. The retail sales of food and foodstuffs saw a year-on-year increase of 13.2%, while many other sectors suffered a decline in retail sales. Retail sales of apparel and home appliances inched down 3.5% and 4.6% year-on-year, respectively.
The Ministry of Industry and Trade attributed the decrease to the residents' unstable income due to the impact of the pandemic.
Some major retailers said that customers returning to supermarkets are on the rise. During the January-April period, AEON supermarkets saw the number of shoppers rise by 10% against the pre-Covid period.
US$364mln proposed for Dau Giay- Tan Phu expressway construction
The Ministry of Transport (MoT) has just submitted to the Prime Minister the first phase investment and construction project of Dau Giay- Tan Phu expressway under the Public-Private Partnership (PPP) model for consideration and approval. 
Accordingly, the project has its starting point at the intersection with National Highway No.1, which coincides with the ending point of the Ho Chi Minh City- Long Thanh- Dau Giay expressway and the last point connecting with the Tan Phu- Bao Loc expressway project through Dong Nai Province's districts of Thong Nhat, Dinh Quan, Xuan Loc and Tan Phu. 
Following the road network development plan for the period of 2021-2030, with a vision for 2050, Dau Giay- Tan Phu expressway project is designed with four lanes of vehicles, 24.75- meter wide road surface; however, based on transport demand and the ability to balance resources, the Ministry of Transport proposed a scale of four lanes, 17-meter wide road surface, a maximum speed of 100 kilometers per hour and total investment capital of VND8,365 billion (US$364 million) for the first phase, including VND4,962 billion (US$216 million) for construction cost and VND1,287 billion (US$56 million) for site clearance.
The MoT also proposed VND1,300 billion (nearly US$57 million) in support for site clearance and construction costs from the State budget, an investment capital of VND7,065 billion (US$307 million) mobilized by investors. The 20- year-and- three-month payback period was also proposed for the investor with starting price of VND1,700 (US$0.07) a kilometer. The price will increase to VND3,400 (US$0.15) a kilometer for standard vehicles in 2042. It is expected that the project will be started in 2023 and be completed in 2025.
Shrimp, tra fish export growth seen continuing in April
Maintaining an upward trend, Vietnam's shrimp and tra fish exports continued to soar in April, contributing to making seafood the spotlight of the export growth in the year to date.
The overseas sales of tra fish in April amounted to US$297 million, more than double the figure seen during the same period last year, according to data released on May 6 by the Vietnam Association of Seafood Exporters and Producers (VASEP).
Between January and April, Vietnam exported tra fish worth over US$950 million, skyrocketing 94% year-on-year.
April saw the country's outbound shipment of shrimp surging by 35% year-on-year at US$406 million, raising the total shrimp export value in the first four months of 2022 to US$1.36 billion, up 41.5% year-on-year.
In the four-month period, Vietnam's seafood export turnover reached some US$3.6 billion, jumping 44.5% year-on-year. The export of shrimp and tra fish accounted for US$2.31 billion of the total, according to VASEP.
The United States was Vietnam's largest seafood buyer in the first four months of the year, with a value of US$842 million, up 74% year-on-year. China came second with a value of some US$578 million, a year-on-year upsurge of 94%.
In the first quarter of 2022, Vietnam's seafood export fetched some US$2.5 billion, up 46% year-on-year. The shrimp export value during the January-March period amounted to US$955 million, up 37% year-on-year, while the country saw a year-on-year surge of 88% in tra fish outbound shipments worth US$654 million.
HCMC ready to welcome leading investors
After the Covid-19 pandemic has been basically brought under control, HCMC has continuously organized activities to call for investment and created favorable conditions for businesses to carry out long-term projects, contributing to the development of the country in general, HCMC and enterprises particularly.
The city has many trade and investment promotion activities and seminars boosting trade cooperation relations and promoting the city's potential, strong points, and typical products, including Investment promotion conferences in Hoc Mon and Cu Chi districts.
At the conference, 10 investment registration certificates were handed over and 31 39 MoUs with a total investment capital of US$16 billion were signed between the local authorities and foreign and domestic investors
Besides, there was the HCMC Economic Forum 2022 attracted the participation of over 900 delegates, including leaders of the Government, ministries and sectors, and representatives from foreign diplomatic agencies and localities, and international organizations; and a meeting between city leaders and 24 major investors to collect suggestions from Investors about solutions for socio-economic development of HCMC.
Director of HCMC Department of Planning and Investment Le Thi Huynh Mai informed that the city has focused on attracting foreign investment for priority sectors, including leading high tech companies taking a leadership role of the production chain and using advanced technology, and having the strength in the Research & Development (R&D) area; strong investors with latest eco-friendly technologies; value-added services; the departments of IT and industry using clean and renewable energy.
From the beginning to the present, HCMC has attracted US$1.28 billion FDI, up 12.18 percent of the total investment capital compared to the same period last year.
Source: VNA/SGT/VNS/VOV/Dtinews/SGGP/VGP/Hanoitimes